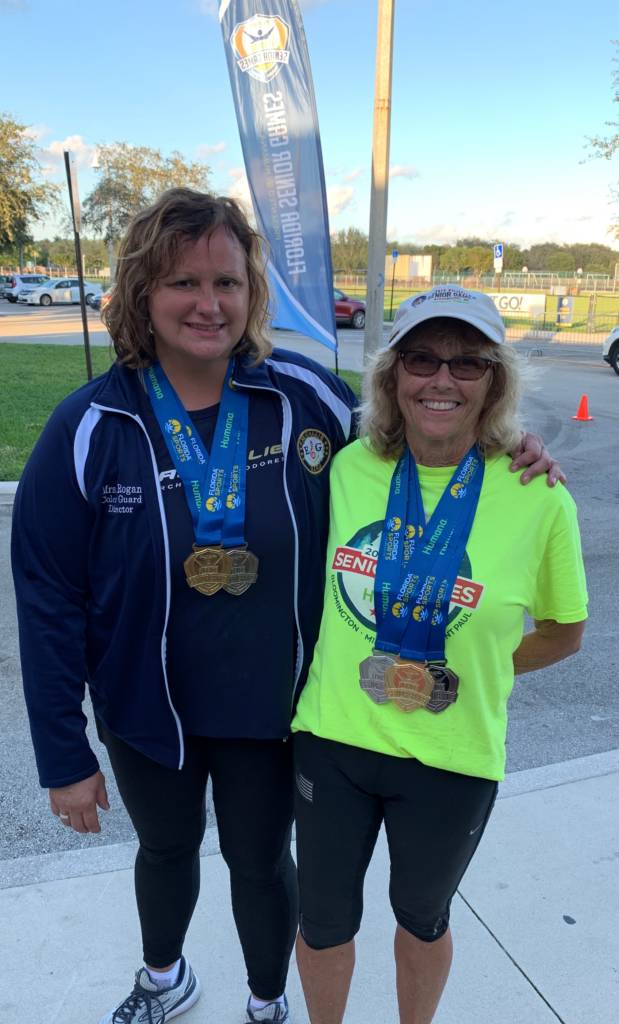 CLICK HERE for 2021 Florida Senior Games photos.
CLICK HERE for full results
FORT LAUDERDALE – Florida Senior Games athletes competing in the five sports on Saturday in the Greater Fort Lauderdale accounted for 650 of the over 1,800 athletes in the 2021 Games.
 
Here's some of their accomplishments.
At the 5K Road Race, Power Walk and Race Walk that started the day at Vista View Park, the runners and walkers combined to run and walk 198.4 miles.
The Track and Field athletes competing in the Field Events at the Ansin Sports Complex made 458 throws and 353 jumps.
Women's Volleyball players in action at the David Posnack Jewish Community Center played 19 matches, 40 games and scored 1,537 points
Swimmers in the pool at the Coral Springs Aquatic Center swam 1,592 laps  (25 yards each) for a total of 39,800 yards, in nine events ranging from 50 to 400 yards
Finally, Bowlers on the lanes at Strikers Family Sports Complex, knocked down 44,922 pins in Men's and Women's Doubles, Mixed Doubles and Team competition.
On top of all that 42 age group records were broken in Bowling, Road Race, Race Walk, Swimming and Track and Field.
The day's first event, 5K Road Race saw Robert Thornhill, of Lakeland, crossing the finish line as the first overall finisher with a time of 18:32.99.  Thornhill left the 5K Road Race to compete in the swimming 200 yard freestyle and won a 50-54 age group bronze medal. He was also the top 5K Road Race finisher at Vista View Park in 2019 as well. 
The top women's finisher was Angelika Grubel, of Ormond Beach, with a time of 21:40.72, winning the gold medal in the 50-54 age group.
Kitty Musante, of New Smyrna Beach, ran a time of 22:24.435 to break Amy McCormack's record, set last year.  Anne McFarlane, of Clermont, set a new record in the 60-64 age group with a time of 22:57.77. She topped the previous record, set by Lupe Parsons of Fort Lauderdale, who ran a 22:59, in 1994.
Thomas Tobias, of Haymarket, VA, set a new Race Walk record in the men's 85-89 age group with a time of 41:48.86, breaking the record of William Gordon, of Punta Gorda, set in 2017.  Gordon established a new record in the 90-94 age group with a time of 52.30.55.  He is the first 90-94 age group race walker in the history of the Florida Senior Games.
It was mentor and protégé day at the field events of the Track and Field championships as two coaches competed alongside their former athletes at the Ansin Sports Complex. Neva Weiskopf, of Lehigh Acres, threw the shot put with Joy Fleet Rogan, of Melbourne (both pictured above), who she taught and coached at Roxbury High School, in New Jersey.
After catching up on Facebook, Neva noted that Joy was approaching Florida Senior Games competition age and coaxed her into joining her at the 2021 Games.
"She was like a surrogate mom to me, besides a coach and teacher, in high school," said Rogan. "She came along at the right time in my life."
Rogan won the women's 50-54 age group shot put gold with a throw of 26 feet, 9 inches and Weiskopf won a 70-74 age group silver medal with a throw of 17 feet, 5 inches.
Weiskopf taught and coached in New Jersey for 25 years, and has been competing in the Florida Senior Games since 2005.  Rogan relocated from New Jersey to Melbourne and now directs the color guard at Eau Gallie High School. This was her first Florida Senior Games competition.
Ahmed Shabazz, of Pendleton, SC, caught up with Paul Sabree, who he coached at Pendleton High School. Shabazz competed in six field events Saturday and will run in four events Sunday. Sabree will compete in 50 and 100 meter dash on Sunday.
Besides his coaching career in South Carolina, Shabazz also coached the Army Ranger Track and Field team in Japan from 1968-71.
At the six field events taking place on Saturday, a total of 10 age group records were broken.  Linda Lowery, of Smyrna, GA, set her third Triple Jump record with a leap of 23 feet, five inches to set the mark in the 70-74 age group.  It was the longest triple jump of all women in the event.  Lowery set the 60-64 age group record in 2013 and the 65-69 record in 2016.
At the Coral Springs Aquatic Center, 26 swimming records broken. Four swimmers set records in all three events they swam on Saturday. Paula Texel, of Clearwater, set new marks in the 50-54 age group in the 200 freestyle, 200 backstroke and 100 IM. Michael Aubrey, of Wilton Manors, had record-breaking performances in the 60-64 age group 50 and 100 breaststroke and 100 IM. Mike Freshley, of Orlando, broke 80-84 age group records in the 50 and 100 breast and the 100 IM.  Gordon Ralph, of The Villages, was a 90-94 age group record breaker in the 50 breaststroke and 100 and 200 backstroke.
Corrine Bjerke and Dennis Farris, of The Villages, set a new Mixed Doubles Bowling mark in the 70-74 age group with a combined score of 1,246.  They topped the previous mark of Ona Wood and Harry Witt, set in 2017. Farris had a three-game total of 631, while Bjerke had a 615 in her three games.
 
Bjerke also teamed with Luanne Giragosian, of The Villages, to set a new women's doubles mark in the 65-69 age group with a 1,220, breaking the previous record of 1,155, set by Erlene Kapiton and Arlene Lavine in 1995. It was the longest-standing Florida Senior Games Bowling record until Saturday when Bjerke and Giragosian topped the mark by 65 pins. Bjerke tallied a score of 651, while Giragosian rolled a 569.
The Great Expectations Women's Volleyball team, from Maryland, was undefeated in five matches to win 50-54 age group gold medal.  Great Expectations won two matches in pool play and three in bracket play.  They won their first four matches in two games, but went to three games in the final of bracket play.  After dropping the first game of the match to Strike Force, of Homosassa, 29-27, Great Expectations rebounded to win the next two games 25-22 and 15-11.
The Great Expectations team is made up of Christian Aleman, Carla Benavides, Pam Buchanan, Maria Caceres, Soledad Chacon, Cecilia Peyrano, Judith Martinez, Olga Navarro, Bertha Otoya Loper, Gloria Ruiz and Robin Nealous.
The final day of the first nine days of the 2021 Florida Senior Games is Sunday with competition continuing in Bowling (Men's and Women's Singles), Swimming, Track and Field (Running Events and Race Walk/Power Walk 1500M) and Volleyball (Men's).  Powerlifting will also be held at Nova Southeastern University Rick Case Arena at the Don Taft University Center.
The 2021 Florida Senior Games, presented by Humana, is an annual program of the Florida Sports Foundation, the lead sports promotion and development organization of the state of Florida, in conjunction with the Greater Fort Lauderdale CVB.  For more information about the Florida Senior Games, visit www.floridaseniorgames.com and find more interesting stories by following the Florida Senior Games on Facebook.