Saturday, December 1 – Thursday, December 6, 2018
SITE
Innisbrook Resort and Golf Club (Har-Tru Courts)
36750 US Hwy 19 N
Palm Harbor, Florida 34683 
SCHEDULE
Singles – Saturday, December 1 – Sunday, December 2
Doubles – Monday, December 3 – Tuesday, December 4
Mixed Doubles – Wednesday, December 5 – Thursday, December 6
To access the tournament playing schedule, click here.
Singles – TN051
Doubles – TN052
Mixed Doubles – TN053
FLORIDA SENIOR GAMES QUALIFYING RULES
Top 5 in each age group at a Series Qualifier site. Participants that qualify for one Tennis event are eligible for all Tennis events. (Note: qualifying is only applicable to the Florida resident divisions).
Tennis entry fee is $30 for the first event and $5 for each additional event for Florida residents. Entry fee is $35 for the first event and $10 for each additional event for non-residents. Entry fee includes an event t-shirt. T-shirts will be distributed on-site at designated competition check-in time. A short survey will be required to be completed at check-in. This survey can be found online at www.floridaseniorgames.com, and can be completed in advance and brought to check-in.
All mailed entries must be received by November 16, 2018 or register online by November 18, 2018 at www.floridaseniorgames.com. Late entries may be accepted at the discretion of the Event Director. Athletes registering after November 18, 2018 will not be guaranteed a t-shirt and may be subject to a $10 late fee.
Entry forms, waiver of liability and entry fee should be made payable to the Florida Sports Foundation (FSF). Save a stamp and beat the deadline! Register online at www.floridaseniorgames.com.
Athletes may compete with only one partner per event. An event is defined as Singles, Doubles or Mixed Doubles.
The age division of competition for doubles and mixed doubles will be determined by the youngest age of the two partners.
Athletes must provide their own racquets and practice balls. Competition balls will be provided.
Participants may compete in a maximum of two events only.
Entrants must enter their partner's name in the column labeled "Partner".
Proper Tennis attire required.  Tennis shoes only.  No tank tops, swimsuits or denim.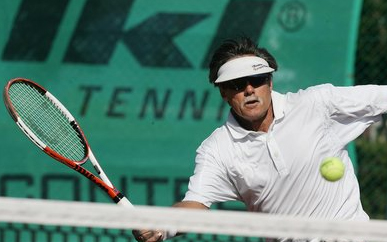 Tournament format will be single elimination with first round consolation.
The Event Director reserves the right to modify tournament format.
Clay Courts (Har-Tru) will be used for all play.
Event Director reserves the right to modify any draw.
Fourth place ribbons will be awarded in addition to Gold, Silver and Bronze medals for Florida residents. Gold, Silver and Bronze medals will be awarded to top overall athletes if non-residents are in contention for medals.
All matches will be conducted in accordance with USTA rules, except as modified herein.
If an athlete is entered in more than one tennis event, a situation may arise wherein they will have to play more than the USTA recommended number of matches in any given day. Attempts will be made to schedule in such a manner to avoid conflicts between events. However, it is the responsibility of the athlete to make conflicts known to the Event Director with sufficient time in order to reschedule or withdraw.
As a principle, play should be continuous, from the time the match starts (when the first service of the match is put in play) until the match finishes.

Between points, a maximum of twenty 20 seconds are allowed. This rule does not apply while a player chases stray balls.
When players change ends at the end of a game, a maximum of 90 seconds are allowed. Between the first and second set, a maximum of 120 seconds are allowed.
However, after the first game of each set and during a tie-break game, play shall be continuous and players shall change ends without a rest.
A five-minute break between the second set and the match tie-break set, if required, is permissible.

Matches shall be the best of three sets using regular scoring. The first two sets are tie-break sets, first to win six games wins that set, provided there is a margin of two games.  If the score reaches six games all, a tie-break game will be played (first to win seven points with a two point margin wins the set).  In the event a third set is required, it will be a USTA Match Tie Break Set, first to win 10 points by a margin of two points.  All tie-breaks will use the Coman method of rotation.  Ends are changed after the first point, then every four points (i.e. rotate after 1st, 5th, 9th, 13th, points etc.). Also, change ends at the conclusion of all set tie breaks.
NATIONAL SENIOR GAMES QUALIFYING RULES
All first-, second- and third-place winners at the 2018 Florida Senior Games will qualify for the 2019 National Senior Games, June 14-25, 2019, in Albuquerque, New Mexico.
Athletes must qualify in each tennis event (singles, doubles, mixed doubles) in which they wish to compete at the 2019 National Senior Games, except when Rule E applies.
CLICK HERE to register online for 2018 Florida Senior Games Tennis
CLICK HERE to download the registration form and individual waiver to register by mail.
To access the 2018 Florida Senior Games hotel survey, click here.
FSF STAFF CONTACT
OJ Hill: (850) 410-5286 or  ojhill@flasports.com
TOURNAMENT DIRECTOR
Joe Mattingly: (727) 240-446-5171 or jmattingly@innisbrookresort.com