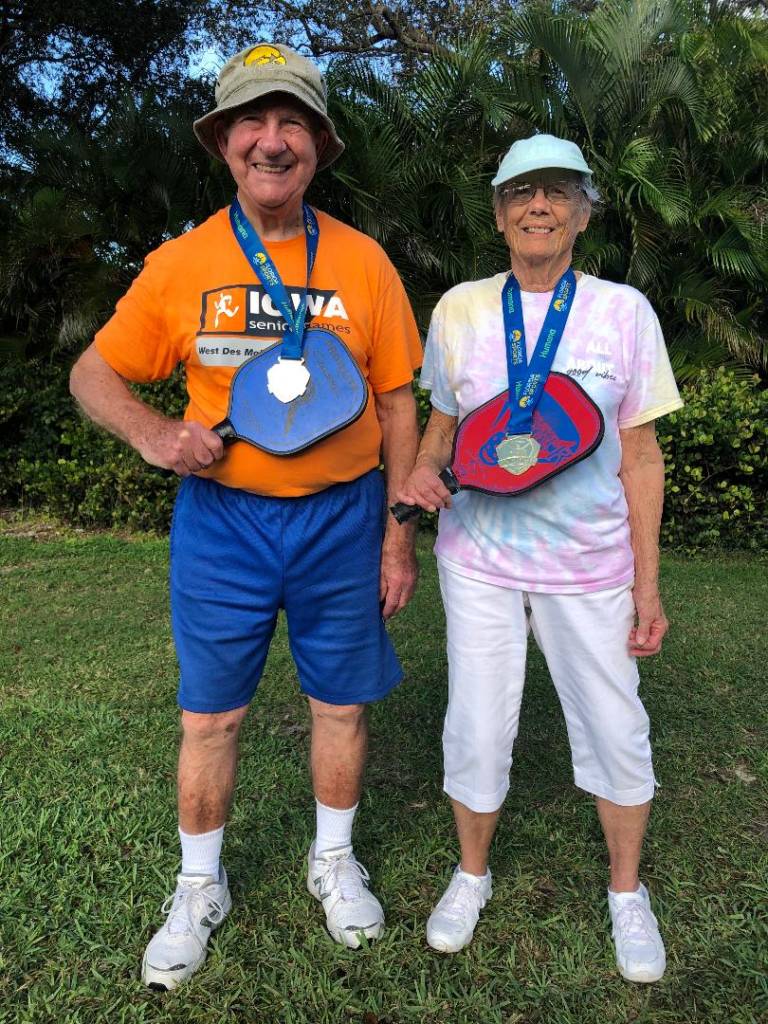 Banner photo by Peter J. Pavelic
CLICK HERE for 2021 Florida Senior Games photos.
CLICK HERE for full results
CORAL SPRINGS – Over the final two days of Florida Senior Games Pickleball competition, a total of 123 Men's Doubles (53) and Mixed Doubles (70) teams were in action at the Country Club of Coral Springs.
In the 17-team Men's Doubles 60-64 age group bracket, David Leach, of Davie, and Wilfred David, from Coconut Creek, squared off against Casey Gunther and Owen Mitchell, in Games 1, 32 and 33.
In between those two games Leach and David advanced through the top half of the bracket while Gunther, from Hillsboro Beach, and Mitchell, of Eustis, faced elimination five times on the lower half of the bracket.
In Game One of the bracket which started at 12:00 Noon, Leach and David defeated Gunther and Mitchell to drop them into the elimination bracket.  The duo then won four more matches to advance to the finals. Meanwhile, Gunther and Mitchell won five matches in the elimination round to set up a rematch.
"It was a long day, but it was fun, challenging and thrilling and we managed to get out with the win, said Leach. "I got out of there just after 8:00."
What made it even more challenging for Leach and David was their winner's bracket games were three-game sets to 11, while the elimination bracket matches were one game to 11.
Gunther and Mitchell avenged the earlier loss with a three-set win, 9-11, 11-9, 11-9.  Leach and David returned strong from their first loss and won  the if necessary, Game 33, in a winner-take-all game to 11.
In Mixed Doublec competition, Tobias Kaye, of Boca Raton, finally won a gold medal in the final of six events in which he participated in at the 2021 Florida Senior Games  Kaye teamed with Cyndi Pletch, of Summerfield, to win the Mixed Doubles 70-74 age group gold medal. The duo combined to win all four of their matches in straight sets and defeated Dorothy Wasser, of Palm Beach Gardens, and Mark Resnick, of Great Neck, NY in the final, 11-1, 11-8. 
Kaye also played in Men's Singles and Men's Doubles Pickleball, and earlier In the week, he  won three silver medals in Racquetball events.
Michael Middlemiss, of Davenport, Iowa and Evelyn Ziething, of Venice (pictured above), became the first 85-89 age group team to win a gold medal in the age group, since Pickleball started in the Florida Senior Games in 2003.
Over 13 days of competition, in 21 sports, more than 1,800 athletes over the age of 50, registered to compete in the 30th Annual Florida Senior Games, in the Greater Fort Lauderdale area and Highlands and Pinellas County.  The 2021 Florida Senior Games, presented by Humana, was a qualifier for the 2022 National Senior Games, to be held in the Greater Fort Lauderdale area, May 10-23, 2022.
Local Florida Senior Games Series Qualifiers begin in January, 2022, beginning with the Gulf Coast Senior Games, in Sarasota, on January 15, 2022.  More than 20 Local Senior Games qualifiers will be held in 2022, leading up to the 2022 Florida Senior Games, at a location to be determined.
The 2021 Florida Senior Games, presented by Humana, is an annual program of the Florida Sports Foundation, the lead sports promotion and development organization of the state of Florida, in conjunction with the Greater Fort Lauderdale CVB.  For more information about the Florida Senior Games, visit www.floridaseniorgames.com and find more interesting stories by following the Florida Senior Games on Facebook.