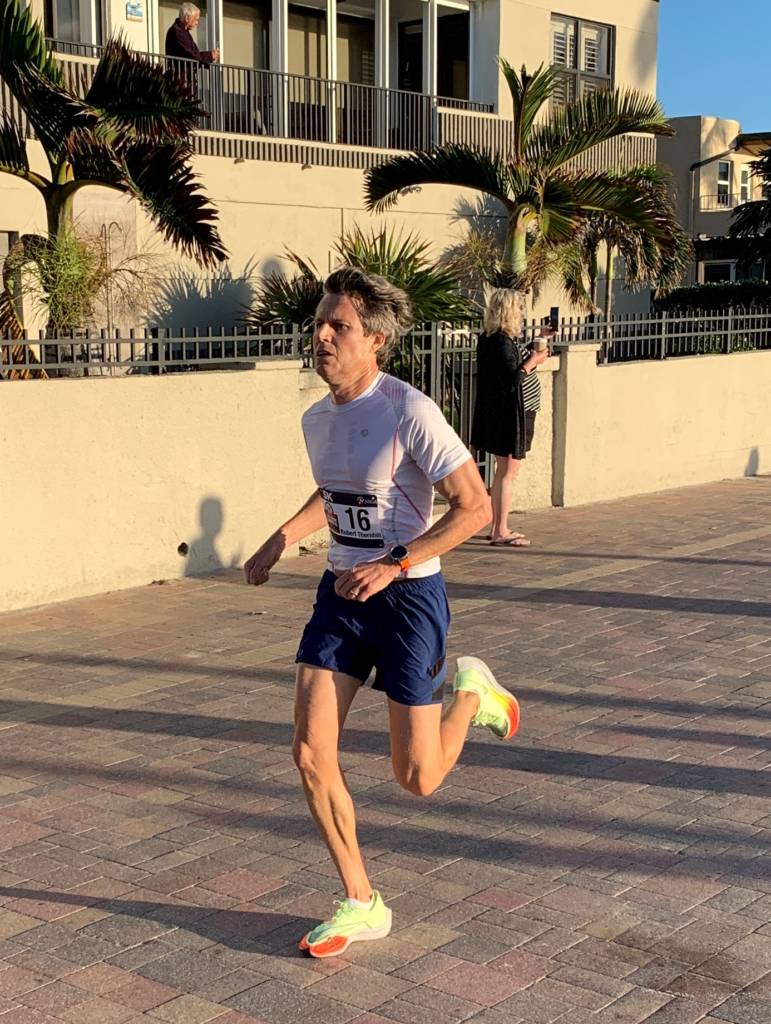 Florida Senior Games Athletes Begin the Day with a Run on the Beach at the National Senior Games
A Lakeland lawyer took a run along the Atlantic Ocean as a 2022 National Senior Games, presented by Humana athlete, and by crossing the finish line in 18:40 won his first National Senior Games medal in his first appearance on the national level.
Robert Thornhill, who was the top overall finisher in the 2019 and 2021 Florida Senior Games 5K Road Race, was the bronze medalist in the 50-54 age group. He was among the top 10 finishers in a race featuring hundreds of runners.
A fifth generation native of Polk County and a partner in the Howell and Thornhill Law Firm, the high level competitor he is spoke of nagging injuries that kept him from recording a better time.
"I pulled a calf muscle at a sprint triathlon a few weeks ago," Thornhill said of his performance that was only eight seconds slower than his gold medal winning pace at the 2021 Florida Senior Games.
Also climbing atop the medal stand at the 5K Road Race was Amy McCormack, of Sarasota, who won a silver medal in the 65-69 age group and Maria Georgiev, of Longboat Key, also a silver medalist, in the 85-89 age group.
It was Georgiev's fourth appearance in the National Senior Games. She won a bronze medal in 2013 in the 75-79 age group and golds in the 2015 Games, in the 80-84 age group and in 2019, in the 85-89 age group.
Lakeland's Janet Lamoreaux, of Lakeland, was a fifth place finisher in the 55-59 age group. Lamoreaux won silver medals in the 1500 meter and 5K Power Walk, on Tuesday and Wednesday and ran in the 400 meter run at the Ansin Sports Complex after the 5k Road Race.
With six family members looking on, Madelaine "Tiny" Cazel, of The Villages, won her 25th gold and 38th overall National Senior Games medal in the shot put 85-89 age group, with a throw of 20 feet, 3 inches. Cazel is competing in six track and field events and playing softball at the 2022 National Senior Games.
Members of Cazel's family came from Atlanta, Chicago, and Boise Idaho to see her final National Senior Games performance.
It was the third National Senior Games for Kathy O'Shea, Cazel's daughter, who is returning the favor for all of her competitions growing up.
"She spent many hours following my brother and I around," O'Shea said, who was a gymnast from four years old through college at Michigan State. "My brother Scott was also a gymnast and went to Arizona State."
Floridians Gary Dixon, of Sarasota and Thomas Sputo, of Trenton, took first and second place, in the 60-64 age group Hammer Throw. Dixon won the gold medal with a throw of 116 feet, 6 inches while Sputo claimed the silver with a throw of 109 feet, 7 inches.
Dixon coaches the track and field team at Brookside Middle School and coaches along with Sputo for Throws Coach Florida.
Hollywood's Brian Hankerson missed a gold medal in the 60-64 Long Jump by ¾ of an inch. Hankerson won the silver medal with a leap of 17 feet, 9 ¾ inch while Ronald Humphrey, of Virginia, jumped 17 feet, 10 ¼ inch.
The 2022 National Senior Games continue in the Greater Fort Lauderdale Area through May 23.  For daily updates, visit www.nsga.com/2022Daily.