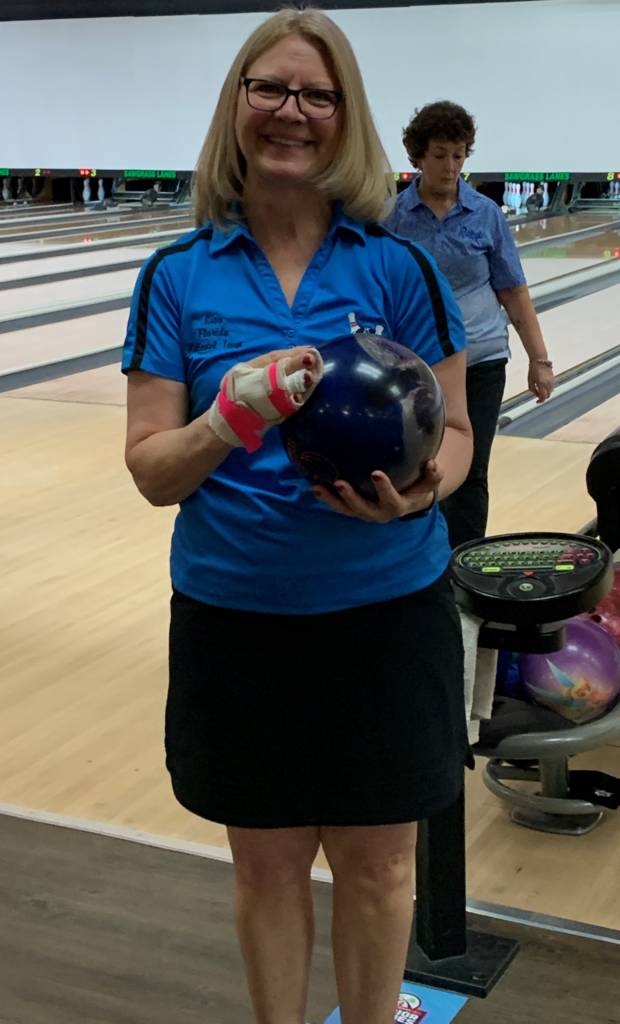 Hand Injury Does Not Keep Bowler from Competing in the 2022 National Senior Games
Eight sports were contested Friday at the 2022 National Senior Games, presented by Humana, in the Greater Fort Lauderdale. It will be hard to find an athletes who showed more determination than Bushnell Bowler, Lisa Polonczyk.
With a bandaged and splinted right hand, Polonczyk bowled left-handed. It's not the regular hand from which she delivers the ball.
On May 2, Polonczyk was playing in a Coed League Softball Game, in her dual residence home in Rochester, Minnesota. The team's regular third baseman was a no-show and she was recruited to play the "hot corner," because of her ability to make the long throw to first base.
She was not very excited about playing the position, but accepted the assignment.
In the fourth inning, as she recalled, an opposing male player ripped a line drive to Polonczyk. Showing proper form, she used both hands to field the line drive for the out, but it struck her ring finger and dislocated the first knuckle. She needed stitches, eight screws, two plates and a pin to repair the damage.
"When you have a half second to react, sometimes your hands don't get in the proper position and the ball hit my throwing hand. "
10 days later, she flew from Minnesota to Fort Lauderdale to bowl, left-handed, after four practice rounds.
"Can you believe that," said Christine Srock, of Pinellas Park, her gold-medal winning Women's Doubles partner from the 2021 Florida Senior Games, presented by Humana. "She's such a trooper."
Her three-game singles score was nowhere near the 516 she bowled in December at the Florida Senior Games, but she didn't travel from Minnesota to Florida, in her current condition, to win a medal.
"I'm here for the friendship," she said. "It's been a challenge to say the least. But I'm using muscles on the other side of my body, I don't normally use when I bowl."
Now that's looking at the positive in a tough situation.
Polonczyk is also registered for Women's and Mixed Doubles and Team Bowling. She will bowl women's doubles with her twin sister, Lori Wareham, and Wareham will take her place in Mixed Doubles with her partner Michael Prunier, of Lakeland. She will find a replacement for the mixed team competition.
Other Floridians in action Friday included. Linda Fulton, of Celebration, whose time of 1:19.07 set a new all-time best mark in the 70-74 age group of the 100 backstroke. Her gold-medal winning time was 22 seconds ahead of the second place finisher. Fulton had National Senior Games top ten times in the 100 backstroke in the 65-69 age group in 2017 and 2019. The 2015 Florida Senior Games Male Athlete of the Year, Rudy Vazmina, of Sarasota, also won a gold medal in the 70-74 age group of the 50 breaststroke, with a time of 35:36.
The Women's 55-59 age group 50 meter dash featured four Florida athletes among the top five finishers at the Ansin Sports Complex. Andrea Collier, of Orlando, crossed the finish line first with a time of 7.33 for the gold medal. Sonder Hawkins, also from Orlando, was the silver medalist with a time of 7.54. The fourth place finisher was Amy Haddad, of Bradenton, with a 7.69 and in fifth place was Sandra Civitarese, of The Villages, with a time of 7.73.
Winning a pair of Pickleball gold medals were Deb Harrison and Jean Kiker, both from The Villages. Harrison won women's and mixed doubles gold medals in the 70-74 age group. Kiker won her pair of gold medals in women's and mixed doubles in the 85-89 age group.
Harrison and Kiker are long-time veterans of Florida Senior Games Pickleball, with Harrison playing in the Games since 2004 and Kiker since 2005.
The 2022 National Senior Games continue in the Greater Fort Lauderdale Area through May 23.  For daily updates, visit www.nsga.com/2022Daily.