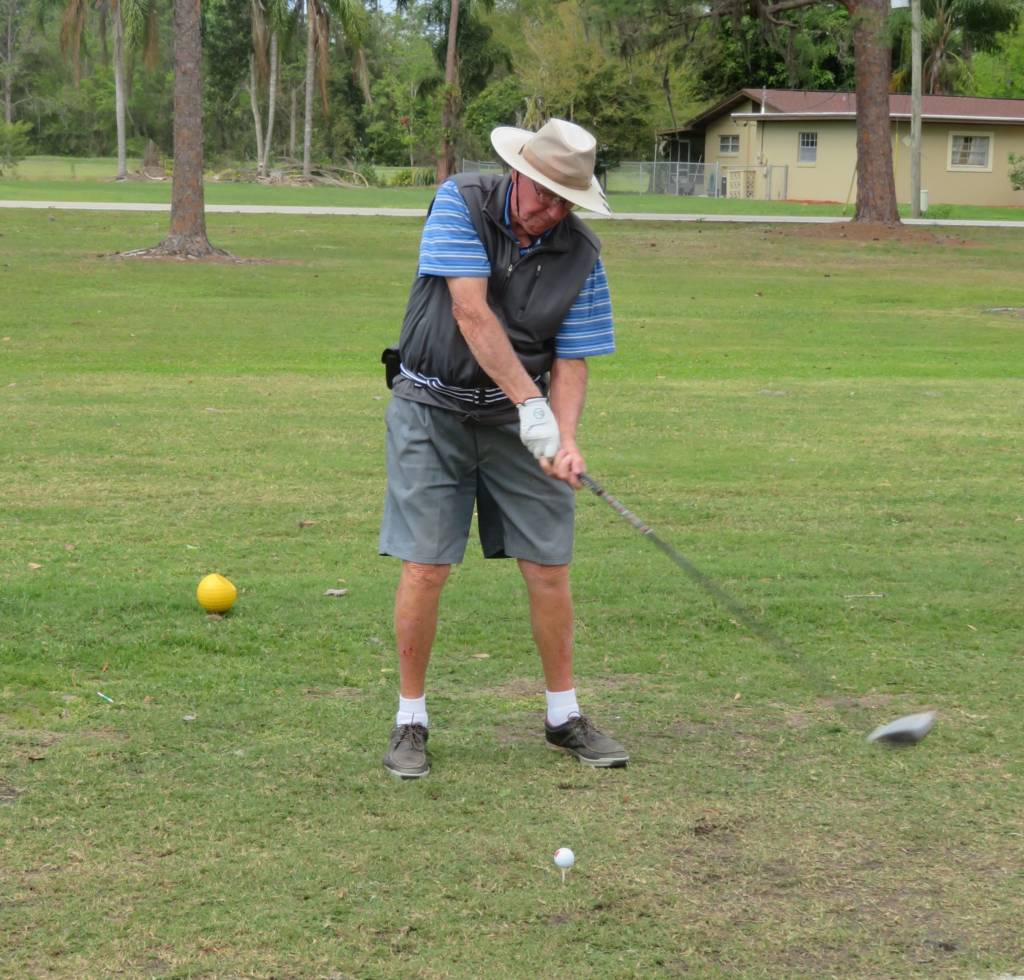 Photos courtesy of Neil Sampson
TALLAHASSEE, Fla. – It must have been a sight at the 2020 Heartland Senior Games when the foursome of Max Gnagy, Rex Smolek, Pat Bentz and Melvin Olson took to the Sebring Municipal Golf Course on January 25.
Beside the fact that all four were competing in the 85-89 age group, it was one of the most competitive age group of all 65 golfers. Only six golfers had scores lower than the age group's medal winners.
Gnagy won the god medal over Smolek in a tiebreaker when both men turned in a card with a score of 81.  Bentz won the bronze medal with a score of 83.  Olson finished fourth with a 105.
Three of the four golfers shot scores below their age.  It's a regular occurrence for Gnagy, who takes full advantage of the 12 golf courses within 10 miles from his Sebring home.
In the last year, Gnagy has played 192 rounds where he has shot his age or less.
Those rounds shooting less than his age is a lot of golf, accounting for 53% of the calendar year.
When asked how many rounds he played over the last year, Gangy replied, "Oh, I don't know," as the amount was too high for him to recollect an exact figure.
He recalled a stretch where he played for 16 straight days and admitted he plays more often when family and friends come to visit.
While Gnagy won the gold medal at the Heartland Senior Games, his day didn't start out very well.
"I had an eight on the first hole, a par 4," he said. "I gave them a four stroke lead right off the bat."
Playing in his backyard at the Heartland Games was much more comfortable for the 87-year old Gnagy, who shot well in the 90s in two rounds at the 2019 Florida Senior Games at the Jacaranda Golf Club in Fort Lauderdale.  His participation in the Florida Senior Games dates back to 2014, and he competed in the 2017 National Senior Games in Birmingham.
Heartland Senior Games Ambassador Neil Simpson was invited to join Gnagy and two friends who not only play regularly in Florida, but in Indiana as well, Gnagy's summer residence. While he was a bit intimated since he doesn't play as often as Gnagy, the low-key day on the course was enjoyable.
"Max is an interesting fellow and has good friends," Simpson said. "What I found most impressive was at 87 years old, he outdrove all of us with little or no effort. He doesn't play like what you think an old man would play.  He just goes up there and hits it."
Gnagy's time on the course didn't start until well into his adult life.  After graduating from St. Petersburg High School, he played seven seasons of Minor League Baseball. From 1951-58, he made stops in Hammond, La.; Sioux City, Iowa; Colorado Springs, Colo.; and Albuquerque, N.M.
During that time, the Minor Leagues were classified by A, B and C Leagues.  He advanced to the A League, the highest league, playing for teams in the Western League that were affiliates of the Chicago White Sox and New York Giants (modern day San Francisco Giants).
Gnagy never advanced to the Big Leagues but played in 843 games and collected over 3,000 at bats in seven seasons for a .269 lifetime average.  In 1955 and 1957, playing for the Colorado Springs Sky Sox and Sioux City Soos, respectively, he played in 150 games or more before giving up the Major League Baseball dream in 1958.
"I had plenty of opportunities to play golf while I was playing baseball," Gnagy said.  "The team owners and stakeholders were always inviting us to play.  I never took them up on their offers.  Plenty of other guys did though."
After working at Pittsfield of Indiana, an automotive parts manufacturer, for 45 years, Gnagy relocated to Florida since he's called the St. Petersburg area a second home since graduating from high school.  He has been living in Sebring for the last 10 years.
As much time as he spends with a golf club in his hands, some may call the golf course Max Gnagy's second home. It seems to be a place where he's quite comfortable.
About the Florida Senior Games presented by Humana
The Florida Senior Games presented by Humana are presented annually by the Florida Sports Foundation (FSF), the state's lead sports promotion and development organization, and a division of Enterprise Florida, Inc. The Foundation works in conjunction with a variety of local sports industry partners to present the different competitions. The Florida Senior Games, presented by Humana, an annual amateur sports tradition in Florida, is part of the state's $57.4 billion sports industry that accounts for 580,000 jobs statewide.