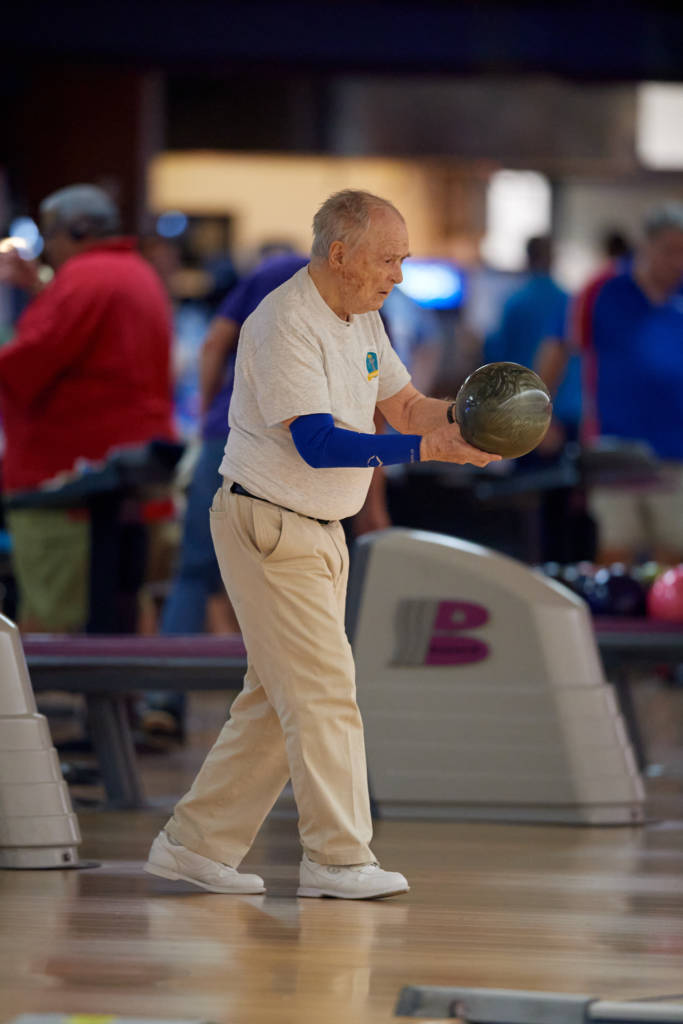 FOR IMMEDIATE RELEASE
December 5, 2020
Contact: Nick Gandy, media@playinflorida.com
2020 Florida Senior Games Opens With Eight Sports in Six Locations
WESLEY CHAPEL – The 2020 Florida Senior Games opened Saturday with eight sports taking place in six different Florida locations. Over 1,700 athletes age 50 and over have registered to compete through Sunday, December 13 in the 29th Annual Florida Senior Games.
History was made at the River Lanes Family Entertainment Center, in Titusville, when Jack Appel (pictured at right), of Boca Raton, and Stan Corwin (pictured above), of Boynton Beach, became the first Florida Senior Games bowlers to compete in the 95-99 age group. With their combined three game score of 833, they set an age group record in their third age group. Appel and Corwin set the 85-89 age group record in 2011, the 90-94 record in 2016 and the 95-99 record today.
Corwin teamed with Betty Gross, also of Boynton Beach, to win the 85-89 Mixed Doubles gold meda. Both Corwin and Appel return on Sunday for Men's Singles competition.
The top doubles score of the day was logged by Tom Fargis and Dennis Farris, a 1363, to win the gold medal in the Men's Doubles 65-69 age group. The highest three-game score of all doubles competitions was rolled by Jennifer Peacock, of Port Charlotte, a 727 in women's doubles. To reach the total, she had game scores of 236, 268 and 223. Peacock and her partner, Christine Srock, of Largo, won the Women's Doubles 50-54 age group gold medal and she teamed with her husband, Mark Peacock, to win the Mixed Doubles 50-54 age group gold medal. She returns on Sunday to bowl in Women's Singles competition.
Gregory Lindsay, of North Fort Myers, had the highest individual game score, a 279, in his gold medal winning Men's Doubles effort in the 50-54 age group, with Jerry Lake, of Cape Coral. The duo finished with a combined score of 1319.
The Wiregrass Ranch Sports Campus of Pasco County was host to three sports on the Game's Opening Day with Basketball Shooting, Bag Toss and 3-on-3 Basketball. Starting the day with near perfection from the Free Throw line, William Oliver, of Reunion, hit 29 of 30 free throws. Shooting three rounds of 10 shots, Oliver sunk his first 15 free throws before missing the 16th shot. He then hit the next 14 shots from the charity stripe to win the gold medal in the 70-74 age group.
Darlene Reilly, of Lehigh Acres, won three gold medals in the 55-59 age group, with the highest women's scores in Free Throw Shooting (27 of 30), Spot Field Goal Shooting (11 of 15 shots, from different areas of the court) and Timed Field Goal Shooting (107 points in three, one minute rounds). It was the third consecutive year Reilly has won all three events in the 55-59 age group.
The only two women's basketball teams competing in the 2020 Florida Senior Games, The Villages Seabreeze and the Broward Heat, had the most exciting finish of the day with a game-tying and a game-winning shot falling in the last 11.7 seconds of the contest.
Following a time out and down 30-27, with 11.7 seconds remaining, the Broward Heat's Marilyn Rule sunk a three pointer to tie the game at 30. The Villages Seabreeze quickly passed the ball to the top of the key, in the halfcourt game, and worked the ball inside to Eugenia "ET" Uhlman, who found the net to put the Seabreeze ahead 32-30 with 1.0 second on the clock. The Heat attempted to get the ball in for a shot, but was unsuccessful.
"ET phoned home," one of her teammates loudly proclaimed in the post-game celebration.
The Geezer Hoops 55+ team was playing "International Fast Break Basketball," according to EJ Tarpey, as they scored 90 points or more in all three of their wins. In a 103-77 win over FL/GA Line, Bob Caulfield, hit a right hand hook shot to go over the century mark with under a minute remaining.
While Caulfield had the milestone basket, Tarpey was a scoring machine for the Geezer 55+ team scoring a total of 164 points, for an average of 41 points per game. Tarpey also won two golds and a silver medal in the Basketball Shooting competition, 55-59 age group, that preceded the 3-on-3 play.
Following her three gold medal performances in Basketball Shooting, Claudette Braswell, of Lake Wales relocated to the other side of Arena A of the Wiregrass Ranch Sports Campus for Bag Toss.
For the five women's participants, Sport Director Ryan Schwartzkopf created a double-elimination bracket to crown an overall champion. Braswell, who was competing in the 80-84 age group, won her first three matches to advance to the championship round,
Her opponent, Paula Hahnert, of The Villages, who had previously lost a match to Braswell, won the first round championship match, forcing an if necessary game.
Braswell, the 2009 FSG Female Athlete of the Year, took a commanding 19-3 lead before Hahnert had a six point round to cut the lead to 19-9. The pair then cancelled each other's scores leading to two rounds of no points, before Braswell scored a 21-9 win.
Earl Ball, of Zephyrhills, won a pair of gold Shuffleboard medals at the Lakeland Shuffleboard Club, winning the Men's Singles 75-79 age group and teaming with Michael Zellner to win the Doubles 65-69 age group. Ball is one of three Florida Shuffleboard players to amass 1,000 career points within the Florida Shuffleboard Association, accomplishing the feat in 2018. He has also represented the United States playing shuffleboard in Ireland, Denmark, Norway, Sweden, The Netherlands, Germany, Brazil and Canada.
Tennis played preliminary round matches at the Innisbrook Resort in Palm Harbor setting up 13 gold medal matches for Sunday. Jay Bortner, formerly of Valrico, now living in Mt. Pleasant, South Carolina, will go for his sixth Men's Singles gold medal dating back to 2005. He won the 75-79 age group Men's Singles gold medal in 2019. Judith Daniel, of Jacksonville Beach, is playing for her third consecutive gold medal in the 75-79 age group, in a match against Nancy Lynn Williams, of Sun City Center.
Ken Drew, of Winter Haven, was one of the few Racquetball players to win a gold medal Saturday at Richey Racquet in Port Richey. Drew, who has been competing in the Florida Senior Games since 2002, won his fifth Men's Singles gold medal, in the 70-74 age group. More gold medals in singles and doubles will be won on Sunday.
The 2020 Florida Senior Games are presented annually by the Florida Sports Foundation, the official sports promotion and development organization of the State of Florida. In conjunction with the Space Coast Florida, Gainesville Sports Commission, Florida's Sports Coast, Polk County Sports Marketing, St. Pete Clearwater Sports and Events and the Greater Orlando Sports Commission.
Schedule and Storylines for Sunday, December 6
Archery, Easton Newberry Sports Complex, Newberry, 9:00 a.m.
STORYLINE: Florida Senior Games archers line up 40, 50 and 60 yards from the targets at the Easton Newberry Sports Complex on the same line used by athletes training for the U.S. Olympic team. The Alachua County facility is one of the top archery venues in the country. The 2020 Games features athletes from age 52 to 87, shooting a variety of bows.
Bowling, (M/W Singles) – River Lanes Family Entertainment Center (Titusville), 9:00 a.m.
STORYLINE: In the 28 year history of the Florida Senior Games, only five perfect games have been bowled. Three of those who reached perfection will be bowling at the River Lanes in Titusville on Sunday in singles competition. Carol Teel, of the Villages, Lawrence Draeger, from Pensacola and Gregory Lindsay, of North Fort Myers have accomplished the ultimate bowling feat and are on the lanes Sunday. Will a sixth join the club?
Racquetball, Richey Racquet, Port Richey, 8:00 a.m.
STORYLINE: Age group champions will be crowned in Singles and Doubles after pool play on Saturday.
Swimming, Cocoa Beach Aquatic Center, 10:00 a.m.
STORYLINE: The second of two days of events begins with a sprint race, the 50 yard freestyle at 10:00 a.m. and closes with a test of stamina, the 500 yard freestyle, at 12:30 p.m., where athletes swim 20 laps.
Tennis, (M/W Singles) Innisbrook Tennis Center, Palm Harbor, 8:00 a.m.
STORYLINE: Men's and Women's Age group champions will be crowned in Singles and Doubles after preliminary matches were played on Saturday.
Volleyball, Wiregrass Ranch Sports Campus of Pasco County, Wesley Chapel, 9:00 a.m.
STORYLINE: Nine Men's and Women's teams will be battling it out at the net at Pasco County's newest facility, which opened in August, 2020.