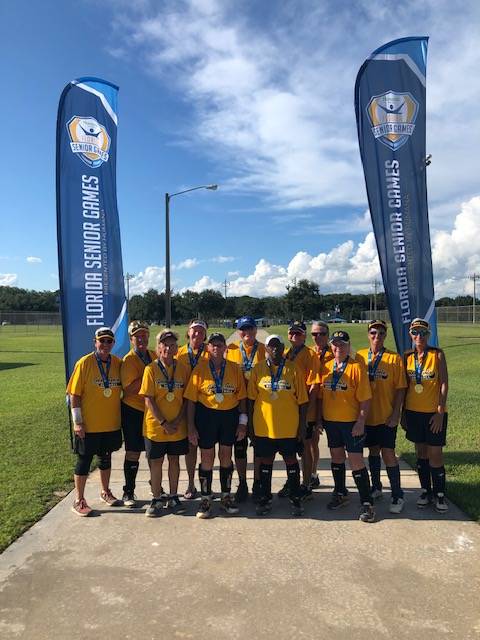 The 2021 Florida Senior Games Softball Championships, and qualifier for the 2022 National Senior Games, is giving players of a variety of skill levels a chance to take their game to a National level or to just get out and enjoy the game.
For some, it will be one of the first times.
Besides the competitive teams taking the field at the Sleepy Hollow Sports Complex on Saturday, in Leesburg, a few t-ball teams will be getting their first taste of the diamond dust and outfield grass.
Among the 19 teams scheduled to play are two teams of beginners, according to Sport Director Avis Vaught, of The Villages.
The format for these three teams with players in their 50s up to even an 80+ player, will be altered to encourage offensive participations. No strikeouts will be called and no walks will be issued. If after three swings and no contact has been made, the ball will be placed on a tee for players to hit.
"These ladies never got the chance to play sports growing up because they were told girls don't play sports," said Vaught, who participated in many sports growing up and was a track and field athlete at Florida State University. "They're having a blast. You can't get any better if you play on a team and just sit on the bench. This format gives them a chance to get out on the field and play the game."
The two newcomer teams, the Dream Catchers and Trail Blazers, will start the day with the first game, to be played at 8:45 a.m. Games will continue until the final game is scheduled to start at 2:45 p.m.
While the recreational level games will be played at smaller fields of the Sleepy Hollow Sports Complex, other regular sized fields will host teams like the Golden Gals 75+ team, a gold medal winning team at the 2019 National Senior Games, in Albuquerque, New Mexico. The Golden Gals 70+ team, a bronze medal winner at the 2019 National Games, is also on the schedule.
While 12 of the teams are from The Villages, nearby, teams from the Orlando and Tampa Bay area, and further south on Florida's west coast, will also be in action. One team of 40+ players will compete as a Sunshine State Games entrant.
The 2021 Florida Senior Games Softball Championships restarts the yearly calendar of events that came to a conclusion in the spring local qualifiers with Tallahassee's Capital City Senior Games in early May.
The fall Local Series Qualifiers continue, after the Softball Championships, in September with the Pensacola Senior Games, beginning September 17. 10 more qualifiers continue through November and the 2021 Florida Senior Games, the 30th Anniversary Games, will be contested December 4-12, with Pickleball being played December 16-19.
Palm Coast & the Flagler Beaches Senior Games
September 9-19, 2021
Gainesville Senior Games
September 10-19, 2021
Pensacola Senior Games
September 10-26, 2021
Jacksonville Senior Games
September 24-October 2, 2021
Broward Senior Games
October 1-14, 2021
Tampa Bay Active Life Games
October 4-12, 2021
Cutler Bay Senior Games
October 18-22, 2021
Ormond Beach Senior Games
October 23-30, 2021
Martin County Senior Games
October 23-31, 2021
Golden Age Games, Sanford/Seminole County
November 5-14, 2021
Florida Senior Games
December 4-12 & 16-19
Greater Fort Lauderdale Area