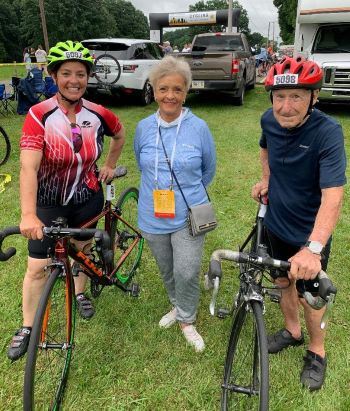 South Florida Cycling Fabbri Family Makes History at National Senior Games
If the Fabbri family had a three-seat bicycle, it would go in three different directions.
The patriarch of the South Florida cycling family, Luigi, now 88 years old and living in Lake Worth, rides 20 miles every day at Okeeheelee Park in West Palm Beach. He has been a consistent medalist in the Florida Senior Games since 1997.
His wife, Eva, rides occasionally and has competed off and on over the years, in the Florida Senior Games. She has ridden in Velodrome competitions in Canada, the United Kingdom, South America, Italy and South America.
Their daughter, Gabriella, is a self-proclaimed "workaholic," and tries to get out on the bike, once a week.
On Sunday, the three-seat bike made its way to Plain Grove Township, 45 miles north of Pittsburgh and Luigi and Gabriella rode in the 2023 National Senior Games 20K Road Race.  Eva and Gabriella competed in the 5K and 10K Time Trials on Thursday and Friday.
With all of them crossing the finish line in Pennsylvania, they became the first Florida Senior Games father, mother and daughter trio to compete in the same sport together.
While Luigi began his cycling endeavors in 1952, Gabriella began competing only two years ago and was sidelined with a broken wrist for nine months.  The 2023 National Senior Games was her first 20K Road Race.
"I should have trained more for the hills," she said a few minutes after crossing the finish line.
Elevation on the Plain Grove Township course was over 1,200 feet with inclines up to nearly 100 feet. The course offered picturesque scenery with rolling hillsides, quaint houses, barns, grain silos, livestock and a country store dating back to the early 1900s.
Even racing in the 85-89 age group and training in the flatlands of South Florida, Luigi shrugged off the hills.  "I raced in the Tour of Mexico, a 40-stage race in the mountains of Mexico."
Although it was quite a few years back when he rode the race that began in 1948, he's seen his share of courses in his 71 years on the bike.
"He's the champion," Eva said of Luigi, but quickly added of Gabriella. "She's next."
Also adding to the family affair was a cheering section featuring Gabriella's twin brother, Renzo, her daughter, Anyssa, and several others.  The family stayed together in an Air BNB house, in Monaca, halfway between the Time Trials and Road Race sites, large enough to house 15 people.
Eva was the only Fabbri to claim a medal at the 2023 National Senior Games, a bronze in the 10K Time Trials 80-84 age group. Luigi earned a fifth-place ribbon for the Road Race, in the 85-89 age group, and Eva was an eighth-place finisher in the Road Race 55-59 age group.
The real reward can't hang from anyone's neck. Bringing the family together to support two generations of Fabbri cyclists is stored in the heart and makes way for a third generation.
Luigi has no plans on stopping his routine of 20 miles a day any time soon.
"Mom says he's probably going to die on a bike," Gabriella said.
Luigi was quick to reply, "I don't want to die on a bike."
Whenever that day comes, it's a guarantee that Luigi Fabbri's bike seat will continue to be filled by a future generation of his family.
In other Florida news from the 20K Road Race, Kim Besuden, of Clermont, won her second National Senior Games gold medal outsprinting a pack of riders to win the 65-69 age group.
Coming down the homestretch, Besuden led a group of more than 10 riders with her closest competitor just to the left of her back wheel.
"I got into a pack of riders who I think were in the 60-64 age group," Besuden said. "Once I got out in front there was no way any of them were going to pass me."
Besuden won the 10K Time Trials gold medal in the 65-69 age group on Friday.  Her two gold medals are among the 365 won by Florida athletes as of Sunday, July 16, to lead all states, according to the Medal Count on nsga.com. Florida currently leads Ohio by 59 medals.
The 2023 National Senior Games continues through Tuesday, July 18, in Pittsburgh, Pennsylvania.  Visit www.nsga.com for more information and follow the Florida Senior Games on Facebook for all of the latest from the 2023 National Senior Games.
CLICK HERE for a listing of Florida Athletes by Sport and CLICK HERE for a listing of Florida Athletes by City.