Fast and Focused Performers Earn 2021 Athletes of the Year Awards
Andrea Collier and Tobias Kaye to be recognized at 2022 Florida Senior Games
The 2021 Athletes of the Year are fast on the courts and fast on the track as well as being focused on the finish line and focused on scoring points.
Andrea Collier, a track and field sprinter from Orlando is the 2021 Florida Senior Games, presented by Humana, Female Athlete of the Year and Tobias Kaye, a racquetball and pickleball player from Delray Beach claimed Male Athlete of the Year.
Collier won track and field gold medals and set age group records in the 50, 100 and 400 meter races in the 55-59 age group at the 2021 Florida Senior Games. Her total time on the track in setting the three records was under one minute and 30 seconds. She ran the 50 meter dash in 7.37 seconds, the 100 in 13.36 seconds and the 400 meter in 1:07:21.
She also won a bronze medal in the shot put.  At the 2022 National Senior Games, Collier won gold medal in the 50, 100 and 200 meter races.  She has also competed in the Kentucky and Louisiana Senior Games.
Tobias Kaye stayed focused and won a gold medal in the final of six events in which he participated in at the 2021 Florida Senior Games. He teamed with Cyndi Pletch, of Summerfield, to win the Pickleball Mixed Doubles 70-74 age group gold medal. The duo combined to win all four of their matches in straight sets. Kaye also competed in Men's Singles and Doubles Pickleball.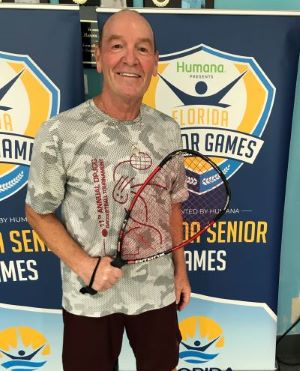 He also played in Men's Singles and Men's Doubles Pickleball, earlier in the week and won three silver medals in Racquetball events.  Kaye won a 2022 National Senior Games Pickleball gold medal in the Men's Doubles D2, 70-74 age group, with Greg Hilligoss, and three Racquetball silver medals.
Collier and Kaye become the 55th and 56th Florida Senior Games Athletes of the Year dating back to the 1994 Games. Kaye is the first racquetball player to earn an Athlete of the Year Award.
The 2021 Florida Senior Games Athletes of the Year will be presented their awards during competition in Florida's Sports Coast/Pasco County.  Kaye is once again registered for racquetball and pickleball and Collier will be back on the track and is adding the high jump to her schedule in 2022.
Previous Florida Senior Games Athletes of the Year
2021: Andrea Collier, Orlando; Tobias Kaye, Delray Beach
2020: Sandra Garner, Daytona Beach; Gabriel Wong, Ponte Vedra Beach
2019: Peggy Peck, The Villages; Ed Scheid, Bradenton
2018: Deb Harrison, The Villages; Brian Hankerson, Hollywood
2017: Carol Teel, The Villages; Mike Welter, Cape Coral
2016: Kathy Petrillo, Jupiter; John Horwath, The Villages
2015: Janet Brown, Lakeland; Rudy Vazmina, Sarasota
2014: Danuta Kubelik, Crystal River; Walt Deal, Clearwater
2013: Nina Hammer, Bonita Springs; Tom Bliss, Melbourne
2012: Linda Frisch, The Villages; James Richling, Port St. Lucie
2011: Essie Faria, North Miami; Segismundo Pares, Ocala
2010: Avis Vaught, The Villages; Richard Merrill, Lady Lake
2009: Patrice Hirr, The Villages; John Shultz, Inverness
2008: Suzy Nothhouse, Estero; Dean Davis, Fort Myers
2007: Claudette Braswell, Lake Wales; Larry Wallen, Jacksonville
2006: Sari Kisbany, Redington Shores; Roger Gentilhomme, Dunedin
2005: Patricia Sargeant, Melbourne; Andy McGuffin, Umatilla
2004: Lillian Webb, Sebring; Harry Carothers, Pinellas Park
2003: Madelaine "Tiny" Cazel, The Villages; James Anderson, New Port Richey
2002: Janice Lathouwers, The Villages; Allen Bjork, Sebring
2001: Sperry Rademaker, Floral City; Howard Hall, Port Charlotte
2000: Erika Messner, Clermont; Al Treichel, Spring Hill
1999: Patricia Bond, Bradenton; Gordon Johnson, Dundee
1998: Lucia Schatteleyn, Englewood; Donald Ritenour, Belleview
1997: Ethel Lehmann, Largo; Seymour Duckman, Daytona Beach
1996: Hope Fage, Largo; F.L. McFadden, Lakeland
1995: Mary Melehan, Englewood; Leonard Stone, Barefoot Bay
1994: Doris Prokopi, Land O'Lakes; Wayne Wakefield, Bradenton