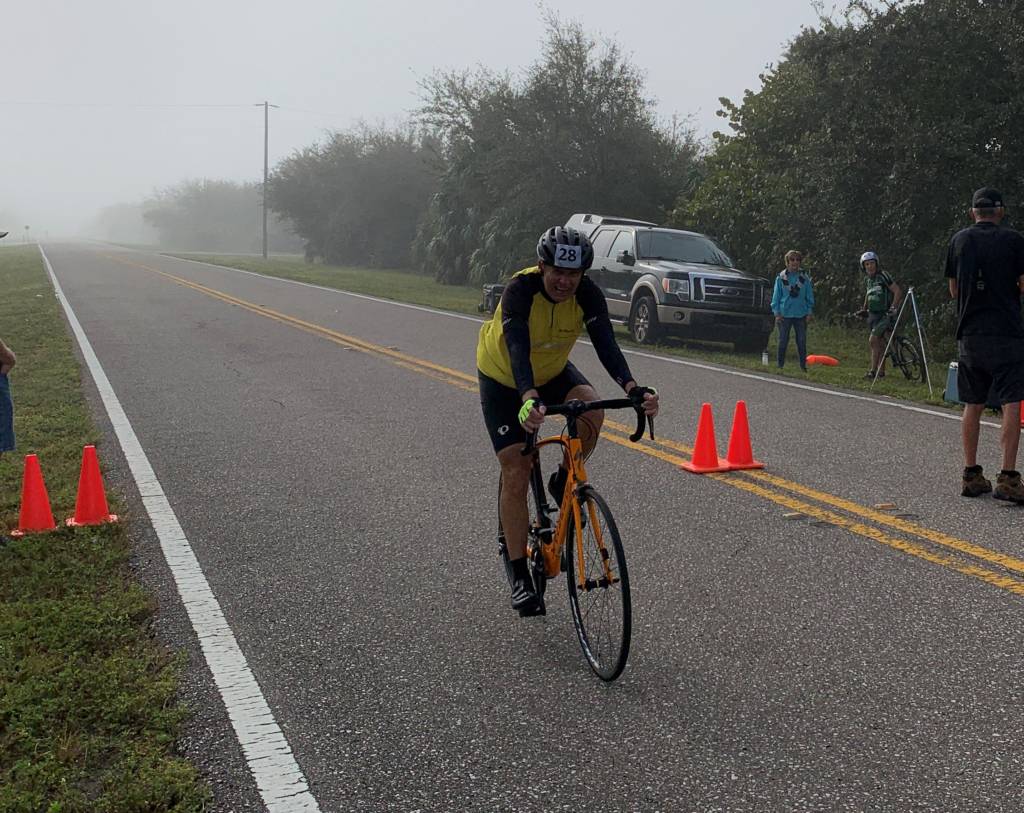 CLICK HERE for 2021 Florida Senior Games photos.
CLICK HERE for full results
FORT LAUDERDALE – Doug Webster remembers every bit of his 10 minutes and 36 seconds during his 5K Time Trials ride at the 2021 Florida Senior Games Cycling Championships.  He also remembers the 20 minutes and 54 seconds of his 10K Time Trials ride.
It's a big difference from his 2020 performance. He has no memory of his 10 minutes and 28 seconds ride in the 5K Time Trials.
After crossing the finish line and heading back to his car, Webster had a heart attack and dropped to the pavement n the parking lot at Fort DeSoto Park. An alert fellow rider saw Webster fall and called 911.  Paramedics came and had to revive him with CPR before transporting him to the hospital.
"I died three times that day," Webster said. "Twice at Fort DeSoto and once at the hospital.  I have no recollection of about an hour and a half of that morning.  I remember getting ready before the race. I  have no memory of riding in the 5K.
Webster's doctors told him most don't survive what he went through.  His cycling training regimen of logging 8,000 to 9,000 miles per year is what was able to keep him alive to return to the starting line and cross the finish line with a full memory of the 2021 Games. 
"I even went back to the place where I fell out," Webster said. "A lot of the other riders remembered me and said, 'Oh, you're that guy."
For his performances Tuesday, Webster earned a pair of bronze medals and qualified for the 2022 National Senior Games.  After the top two finishers in his 70-74 age group left the medal stand, Webster joked, "I think I'll stick around up here.  I don't get here often.
His determination was evident in getting back to the 2021 Games as he was walking a ½ mile around the block at his New Port Richey neighborhood within two weeks after being released from the hospital.  Not much longer after that, he was back on a stationary bike at his house and in physical rehabilitation.
While he's not back up his previous standards of training miles, he'll eventually get there.
"I only logged about 5,000 miles this year," he said.
Webster and his fellow riders rode through a thick early morning fog, but other than the fog, conditions were ideal for time trials racing, according to the cycling sport director, John Sinibaldi.
"There's almost never a day when there's no wind at Fort DeSoto Park," Sinibaldi said, a St. Petersburg resident and regular rider at the park. "But there's no wind today. It's great conditions, except for the fog."
Joseph Frost, of The Villages, turned in the top overall times in both the 5K and 10K Men's Time Trials, winning the 50-54 age group gold medals, with times of 6:55 and 13:59, respectively.
Kimberly Besuden, of Tavares, turned in the best overall women's times in both events, crossing the finishing line of the 5K in 8:03 and the 10K in 16:20.
Carol Jean Vosburgh, of St. Petersburg, was recognized with a Lifetime Achievement Award Tuesday, for competing in the Florida Senior Games for four decades between 1990 and 2020.  Vosburg won her first Florida Senior Games medal in 1999 and won a gold and silver medal Tuesday, in the 75-79 age group.
The second day of Table Tennis competition was held at the Broward County Table Tennis Club and for the 29th consecutive year, a medal was placed around the neck of Lakeland's John Shultz. 
Schultz won his 18th men's singles gold medal in the 85-89 age group. It was the seventh age group for Shultz to win a gold medal, dating back to 1993 when he was a 55-59 age group champion.  He also teamed with Deane Chickering, of The Villages, to win the team's ninth gold medal since 2008.  Overall, Shultz has won 28 table tennis gold medals since 1993.
Because of that achievement, he was honored with a Lifetime Achievement Award for winning medals in all four decades of the Florida Senior Games.
Day Five of Nine of the 30th Anniversary Florida Senior Games begins the first of two days of Mixed Double Tennis Wednesday at the Tennis Center of Coral Springs.
The 2021 Florida Senior Games, presented by Humana, is an annual program of the Florida Sports Foundation, the lead sports promotion and development organization of the state of Florida, in conjunction with the Greater Fort Lauderdale CVB.  For more information and more interesting stories by following the Florida Senior Games on Facebook.