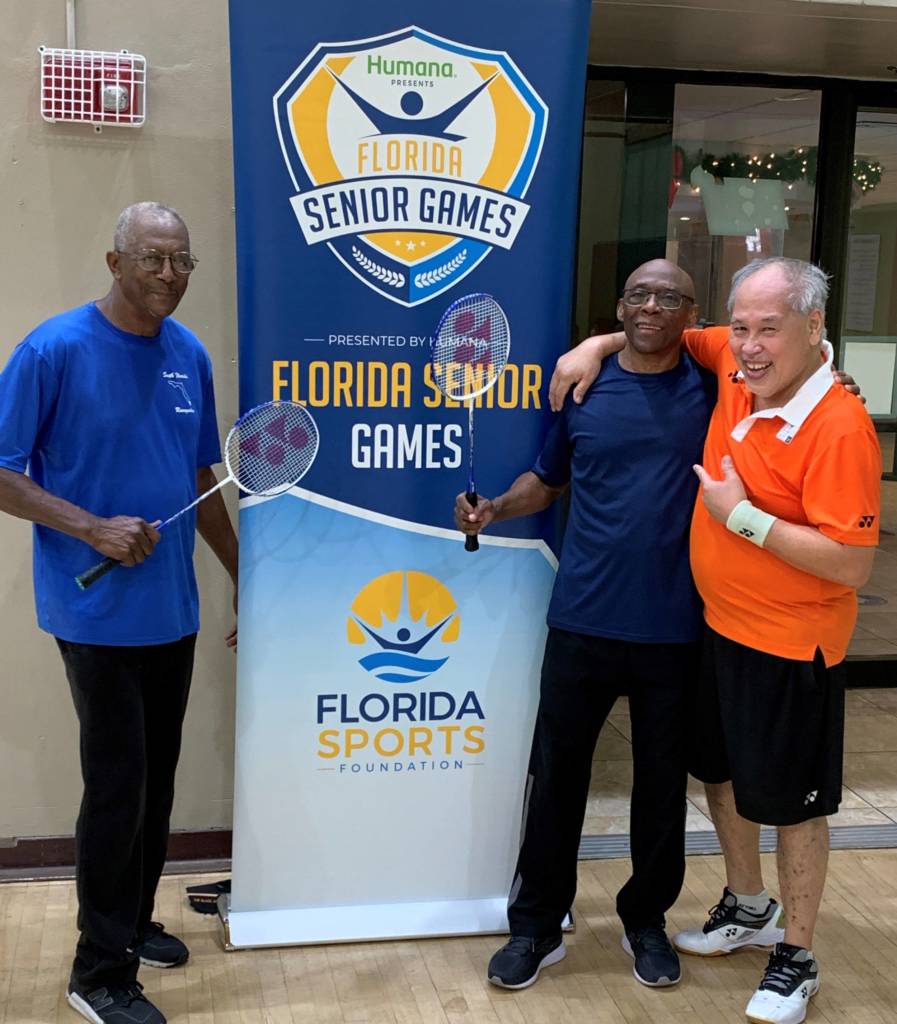 CLICK HERE for photos from Saturday
CLICK HERE for full results
CLICK HERE for a video compilation of photos from December 4-5.
It's been long documented that participation in the Florida Senior Games is a significant benefit to the physical health of the athletes competing.
In the case of Miami/Fort Lauderdale area badminton athletes, Andrew Harrell (right in photo with Dave Zarco) and Auther Keys (left in photo), the sport and the Florida Senior Games have provided a mental and emotional benefit.
Both are Vietnam War veterans who spent time in combat and spent years suffering from Post-Traumatic Stress Disorder.
"No one knew about that kind of stuff in 1971 when I came home," said Harrell. "Or that we would be traumatized for years.  There was not treatment for it from the VA (Veteran's Administration) for a long time.
Because of the lack of help for veterans like Harrell and Keys, they wanted to forget about their overseas experiences. They didn't talk about it and really didn't want to talk about them.  This led to anxiety, depression, anger, sleep disorders, nightmares, self-medication and eventually loss of jobs.
"I used to lay around and isolate and think about things I shouldn't have been thinking about," Harrell said.
Eventually, things came around and help became available for veterans that eventually led to Recreation Therapy. They started competing in the National Golden Age Games, for veterans only, in track and field event. They were later pointed in the direction of the Miami area's favorite badminton expert, the Florida Senior Games Sport Director, Dave Zarco.
On Sunday, Harrell and Keys were swatting the shuttlecock around with other Florida Senior Games athletes playing in Men's Singles 70-74 age group and teaming up in the Men's Doubles 70-74 age group. Their efforts earned them a qualification to the 2022 National Senior Games.
Besides the National Senior Games opportunity in May, 2022, Harrell plans on competing in in the 2022 Golden Age Games in Sioux Falls, South Dakota, in July.
Zarco began working with Harrell and Keys, "about four years ago," and has seen significant improvements, even though their training was interrupted by the Covid-19 pandemic for nearly two years.
"They're quick learners," Zarco said. "I started out teaching them basic fundaments and working on strategies and rotations, then we got interrupted.  In one of our first sessions back, I was working on soft serves with them and within five minutes, they had it down."
Now that Andrew Harrell and Auther Keys have joined the tight knit Miami badminton community, don't expect them to venture away from it any time soon.
"I just like the game," Harrell said. "I never knew much about it but it keeps me moving and active."
A USA Racquetball Hall of Fame member won a Men's Doubles gold medal Sunday, as Tim Hansen, of Wellington, teamed with Ken Angelocci, of Lake Worth, to win the 60-64 age group championship.  The gold medal winning team outscored its two opponents in the three-team round robin pool, 60-14, winning both matches in straight sets.
Hansen was inducted into the USA Racquetball Hall of Fame in 2018 and is one of the most decorated amateur athletes in the history of USA Racquetball, winning more than 50 National and two World Championships.
The Dominos Championship, held at the Jim Ward Community Center, in Plantation, featured 19 tables, with four players each, playing in a Random Dominos Tournament.  The Random format gives all players an equal chance of winning without regard to skill level by creating a level playing field.
The overall winner of the tournament was Derick Gilzcan, with second place going to Jackie Archer, the third-place finisher was Alvin Richards, followed by Brian Marston in fourth place. The top three female finishers were Denise Butler, Deisy Alonso and Evelyn Barnes. Besides local players, the tournament attracted attendees from as far north as Orlando to Homestead and even a participant from Jamaica.
In the second and final day of Men's and Women's Singles Tennis, Gabriel Wong, of Ponte Vedra Beach, won his fourth 70-74 age group medal in five years and fifth gold medal overall, since 2015.  Wong won matches in straight sets on Saturday and Sunday, defeating David Regan, of Sun City Center, in the championship match, 6-0, 6-0.
Wong, also a Pickleball gold medalist and the 2020 Florida Senior Games Male Athlete of the Year, will be presented with his award the weekend of December 16-19, at the Pickleball competition.
Judith Daniel, of Jacksonville Beach, won her fourth consecutive gold medal, defeating Jean Wrightsman, of Punta Gorda, 6-2, 6-3, to win 80-84 age group, Daniel was the gold medalist in the 75-79 age group from 2018 to 2020.
Day Three of the 30th Anniversary Florida Senior Games continues Monday with Golf, at The Club at Emerald Hills, in Hollywood, Table Tennis (50-69 age groups) at the Broward County Table Tennis Club and the first of two days of Men's and Women's Doubles Tennis at the Tennis Center of Coral Springs.