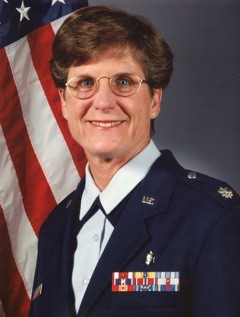 TALLAHASSEE, Fla. – During her life, Pat Sargeant held many titles.  She's a pioneer in women's athletics at Florida State University who paved the way for current women's athletes in the early 1970s.  She's been a collegiate volleyball coach. She's been an educator at several universities nationwide. She's been a decorated Florida Senior Games athlete in swimming and pickleball.  She was the 2005 Florida Senior Female Athlete of the Year.
In honor of Veteran's Day, she is known as Lieutenant Colonel Pat Sargeant of the United States Air Force.
Lt. Colonel Sargeant kept the Air Force soldiers healthy from 1984 through her retirement in 2004.
"I worked for the Wing Commander and Hospital Commander to install health promotions on base," she said. "We established Tobacco Free areas and implemented Air Force Fitness and Nutrition programs and compliance. Personnel was given duty time to maintain fitness due to physical demands of deployment. We supported those getting ready for deployment."
During her 20 years in the U.S. Air Force, Sargeant served in several different places around the United State. She began her military career after meeting some folks in the Air Force while studying at the University of Illinois at the age of 30.
She was encouraged to join the Air Force by General Norma Brown, a 1949 graduate of Florida State University, who a 32-year career in the Air Force, retiring as a Major General in 1982.
"My dad was also Lt. Colonel in Air Force, and I was very familiar with the life," she said. "So I decided to pursue it."
Sargeant's stops along the way found her at the Air Force Academy in Colorado, where she taught and coached volleyball. She studied physical therapy at Baylor University while at Fort Sam Houston and finished her career at Seymour Johnson Air Force Base in Goldsboro, N.C.
"I spent a lot of time on Air Force bases and college campuses," Sargeant said.
After her 20-year stint in the Air Force, Sargeant retired to Melbourne and worked part-time as a physical therapist. She also returned to a sport of her youth in the Florida Senior Games.
Sargeant grew up in St. Petersburg and swam for the Flying Fish team and Northeast High School. Upon graduation at Northeast, she ventured north to Tallahassee and Florida State as a student athlete on FSU's volleyball team and major at Physical Education.
It didn't take long for Sargeant to make her mark on the Florida Senior Games.  She earned the FSG Female Athlete of the Year in 2005 and is a record holder in nine swimming events in the 50-54 and 55-59 age groups.
After a shoulder injury ended her swimming efforts, she began playing Pickleball and is now a Florida Senior Games medal winner in singles and women's doubles with her partner Jodi Yambor, also an athlete with a swimming and coaching past.  Yambor was an All-American swimmer at UM in the mid-1970s and returned to coach the Hurricanes women's swimming team through the 1990s.
Sargeant's life before the Florida Senior Games has a lot to do with her current success as an athlete in the 60-64 age group.
"I had a life in education, with many professional opportunities, and was an Air Force Officer in charge of a lot of people," she said.  "The Florida Senior Games have given me an opportunity to continue athletic pursuits and meet people. It has all worked out well."
Besides the many Florida Senior Games accolades Sargeant has received, she achieved several honors in the Air Force, of which she is very proud.
Her efforts won awards from 2001-03 for the Best in Air Combat Command Health Promotions. In 2002, she was part of a team that earned the All Air Force Award for Best Small Box Health Promotion.
"We prepared and supported soldiers getting ready for deployment to Iraq," she said. "We put together stress deployment kits to go in mobility kits to provide stress relief. The deployment kits included therapy bands and other things for stress management.
It was all part of a program to keep soldiers at adequate fitness levels in a constantly changing environment.
"There was so much going on and everyone is a player in the success of the troops wherever they may be," she said. "It was very hot for those on the bases in the Middle East and they had to be in good physical shape. We all contributed to the ultimate success."
Whether it has been Athlete, Coach, Professor or Lt. Colonel, at Sargeant, is well aware of the ultimate success on whatever platform she is involved.
Thank you for your service, Pat Sargeant. Now serve up an ace on the Pickleball Court.
Registration for the 2019 Florida Senior Games presented by Humana is ongoing and will conclude November 20.  Athletes can begin the Florida Senior Games movement in the Greater Fort Lauderdale Area for the 2019 Games and continue in South Florida through 2021.  The 2020 Florida Senior Games will also be held in the Greater Fort Lauderdale area as well as the 2021 National Senior Games.
About the Florida Senior Games presented by Humana
The Florida Senior Games presented by Humana are presented annually by the Florida Sports Foundation (FSF), the state's lead sports promotion and development organization, and a division of Enterprise Florida, Inc. The Foundation works in conjunction with a variety of local sports industry partners to present the different competitions. The Florida Senior Games, presented by Humana, an annual amateur sports tradition in Florida, is part of the state's $57.4 billion sports industry that accounts for 580,000 jobs statewide.