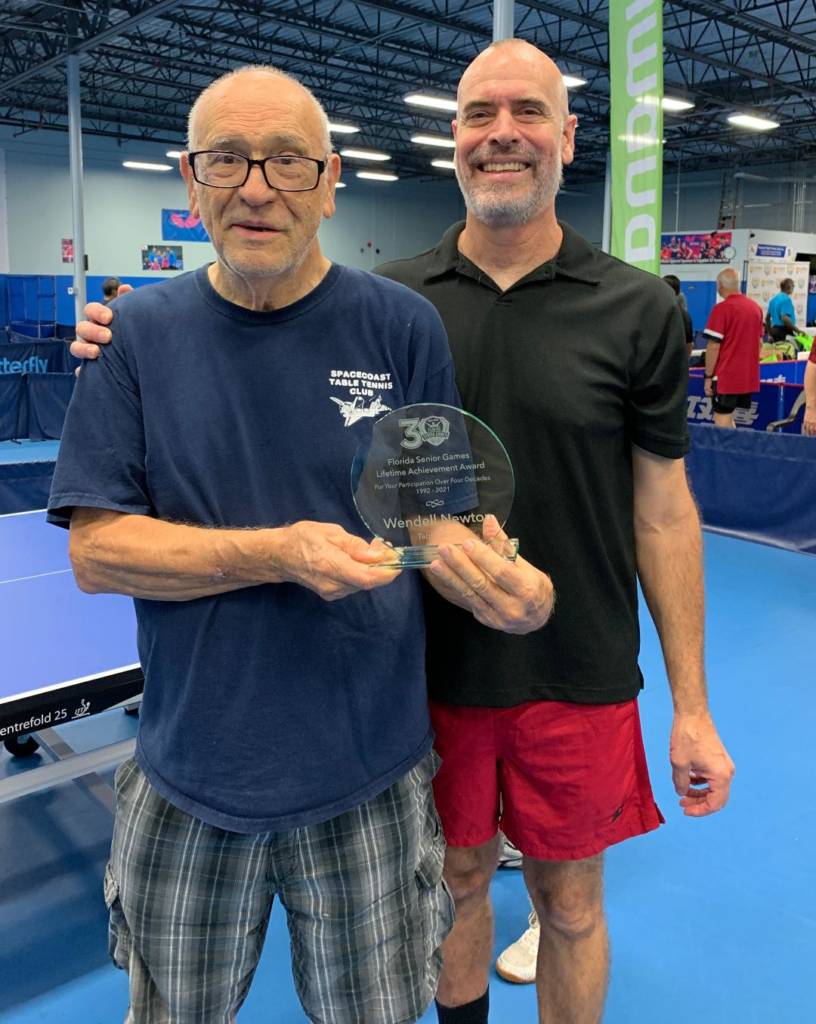 CLICK HERE for 2021 Florida Senior Games photos.
CLICK HERE for full results
CLICK HERE for a video compilation of photos from December 4-5.
FORT LAUDERDALE – It was 1971 and Wendell Newton found himself standing across the table from the second-ranked table tennis player in the world while representing his Air Force base in a tournament in Germany.
Fast forward 60 years and Newton (left in photo) and his son, Damon (right), stood across the table from Winston Dowridge and Garth Jordan at the 2021 Florida Senior Games, playing for the gold medal in the Men's Doubles 55-59 age group.
Before competition began Monday morning, at the Broward County Table Tennis Club, Newton, from Melbourne, was honored with a Lifetime Achievement Award for competing in all four decades of the Florida Senior Games.
Throw in his experiences over six decades, it is a well-deserved honor for Wendell Newton.
"I won a tournament on the base that about four guys in it, so they figured I was the best on the base," Newton said of his experience as the Air Force Base champion. "I was playing against the top guys from France, Germany and China."
Since 1996, when he won his first Florida Senior Games medal, he's playing the top guys in the state of Florida.  Much like his experience in Germany, in 1971, Winston Dowridge and Garth Jordan defeated the father and son, but that won't keep him from his ongoing contributions to the table tennis community in Florida.
Using the experience he gained as a computer programmer in the Air Force and afterwards, Newton developed table tennis tournament software in 2002, that is still being used by sport director Brad Woodington.
"He's a high order thinker," said Ray Spann, the Florida Senior Games tournament referee, of Newton.  "Not many people know that, but Wendell is absolutely brilliant."
Besides Newton's accomplishments on Monday, Patricia Benitez and Ricardo Abril, of Orlando, won their seventh mixed doubles gold medal since 2011, winning the 60-64 age group championship. 
Benitez also won gold medals in women's singles and women's doubles, teaming with Juliana Milanov, of Winter Garden, in the 55-59 age group.  Abril teamed with Michael Hodges, of Lakeland, to win the 60-64 Men's Doubles championship and won a silver medal in men's singles.
For the second consecutive year, Bradenton's Ed Scheid, was honored with an award  at the Florida Senior Games Golf Championships.  To follow up his 2019 Male Athlete of the Year Award presentation of last year, Scheid was recognized with a Lifetime Achievement Award.  Scheid began his Florida Senior Games golf journey winning a bronze medal in 1999, in the 55-59 age group.  At the 2021 Games, he brought home a silver medal in the 75-79 age group.
Day Four of the Nine Days of the 30th Anniversary Florida Senior Games continues Tuesday with the 5K and 10K Cycling Time Trials, at Fort DeSoto Park, in Pinellas County, along with the Table Tennis 70+ age groups and Men's and Women's Doubles Tennis.  The tennis competition was halted on Monday due to rain in the Greater Fort Lauderdale area.
The 2021 Florida Senior Games, presented by Humana, is an annual program of the Florida Sports Foundation, the lead sports promotion and development organization of the state of Florida, in conjunction with the Greater Fort Lauderdale CVB.  For more information and more interesting stories by following the Florida Senior Games on Facebook.