TALLAHASSEE – The 2019 Florida Senior Games presented by Humana came to a conclusion on Sunday, December 15 with a game-winning volleyball kill at the DS Sportsplex in Deerfield Beach.
It provided the final memorable moment of the 28th Annual Florida Senior Games.  Over the course of the previous nine days of action, over 1,500 athletes age 50 and over had memorable moments.  For some, it may have been their first Senior Games memorable moment.  For others, it added to a list of memorable moments.
Here's a list of Top Memorable Moments, achieved by a handful of athletes December 6-15, 2019, in the Greater Fort Lauderdale area.
Record-Setting Swimmer Cav Cavanaugh returns and brings his wife with him
In his last Florida Senior Games appearance, the 2000 Games in Kissimmee, Cav Cavanaugh made his presence known swimming in six events and setting five records.  After a 19-year absence, and the Games in his hometown of Fort Lauderdale, Cavanaugh made his return, and his equally talented wife, Debbie, joined him on the starting blocks.
Two of his records still stand, in the 100- and 200-yard freestyle in the 65-69 age group, from his 2000 Florida Senior Games performance.  He added an 80-84 age group record in the 100 freestyle at the 2019 Games.  Debbie added her name to the record book setting marks in the 65-69 age group in the 100 and 200-yard backstroke and the 100-yard freestyle.  Cav and Debbie are the first swimming husband and wife to etch their names in the Florida Senior Games Record Book.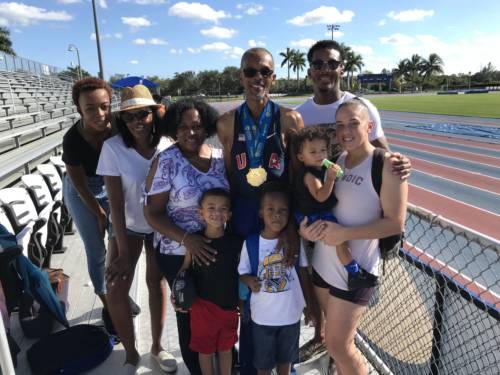 Brian Hankerson returns from Grandchild's Christening and adds fourth gold medal
Another hometown hero, Brian Hankerson, from Hollywood, set records in his third age group and won gold medals on both days of competition.  He set records for the High Jump, Long Jump and Triple Jump on Saturday in the 60-64 age group and returned to the track for running events on Sunday to win a gold medal in the 200-meter dash.
His Sunday schedule was a busy one as he was at the Ansin Sports Complex at 9:00 a.m. to receive his 2018 FSG Male Athlete of the Year Award.  He left with his family to attend his grandson's christening and returned by 1:00 p.m. to run the 200-meter dash and run the final leg on a 4×100 Relay team.
John Shultz wins 27th consecutive gold medal
It was another year and another climb onto the medal stand for FSG Table Tennis player John Shultz, now a resident of Lakeland.  Shultz began winning Florida Senior Games medals in 1993, while competing in the 55-59 age group, and turned in his 27th consecutive medal-winning performance in the 2019 Games in the 80-84 age group.  He won a Men's Singles gold and a Men's Doubles gold with partner Deane Chickering, from The Villages.  He has teamed with Chickering to win six consecutive Men's Doubles gold medals.
Shultz claims to have played in the 1992 Florida Senior Games, in its inaugural year, but there are no records or results to back up his very believable claim.
97 Year Olds Show Off Their Skills
The second weekend of the 2019 Florida Senior Games featured the two most experienced athletes in competition as Mary Kemp, formerly of Boca Raton, was on the track and Hershel Stotsky, of Tamarac, was on the billiards table.  On Saturday, Stotsky, played one best of three match against Irwin Klar, and won in straight sets for a gold medal.  On Sunday, Kemp was one of the first to arrive at the Ansin Sports Complex and stayed until the final race, the 4 X 100 Relay.  In between, Kemp won gold medals in the 50-, 100- and 200-meter dashes.
Both were treated like celebrities during their competitions as Stotsky brought along an entourage to cheer him on and Kemp posed for photos with fellow athletes and spectators.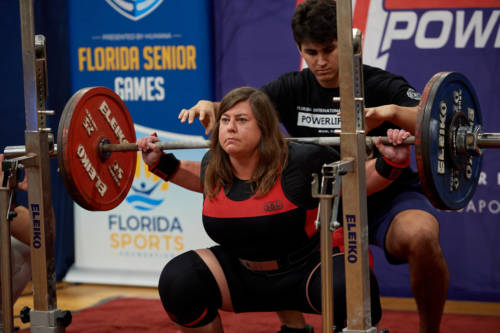 A Fitting Name for Gold-Medal Winning Powerlifter
In just two years, Hope Powers went from a beginning Powerlifter to a state record holder and FSG Gold Medal winner.  Powers set records in the Squat and Deadlift while also establishing a personal best in the Bench Press.
Her record-setting deadlift of 352 pounds was a follow up of a disqualified lift at a recent meet.
"I had a little hitch in my lift," Powers said.  "I got it up fine, but just had a that hitch.  I knew I could do it but just had to come out and make it happen today."
Her record setting and personal best lifts earned her the 2019 Florida Senior Games Best Female Powerlifter Award as well as Bench and Deadlift Champion Awards.
Lighting It Up for 65 points
In the majority of 3-on-3 Basketball games played at the 2019 Florida Senior Games, most teams did not score more than 65 points during the two 15 minute halves.  However, Shawn Nelson, of the Geezer Hoops 50-54 age group team, scored 65 himself, in a 123-52 win over the Cardinals.
In three games, the Geezer Hoops team totaled 323 points and Nelson connected on 31 of 39 three-point field goals.  Other team members included E.J. Tarpley, David Jackson and Ray Gromlowicz.  Team captain Todd Williams was scheduled to play but suffered a pre-Games injury and put a call into Nelson to fill in.  Wise choice by the team captain.
Jean Kiker defeats younger bracket
Being the only entry in the 80-84 age group of Women's Singles Pickleball competition Jean Kiker, of The Villages, was guaranteed to add a 2019 Florida Senior Games gold medal to her collection. But that wasn't good enough for the veteran Senior Games athlete.
Kiker played in a six-player bracket, with five players in younger age groups.  She spent a morning at the DS Sports Plex going undefeated in four matches. She defeated the 70-74 age group gold medalist, Deb Dorne, of Boynton Beach, twice, and the 75-79 age group gold medalist Mary Turpin, of Silver Springs, and one other player in the 70-74 age group.
Both of the matches between Kiker and Dorne went to three-game sets and four of the games were decided by 11-9 scores.  It was Kiker's 12th gold medal in Florida Senior Games Women's Singles, since 2005, while playing in four different age groups.
Alan Wells breaks record from 1994
Alan Wells, of Orlando, established two new records, circling the track, in the 800 and 1500 meter runs in the 55-59 age group. In the 800-meter run, his time of 2:15.90, topped his own mark, set in 2018, by two seconds.
While heading toward the finish line, for his 1500-meter record-setting time, Wells clipped the railing with his left foot and nearly stumbled.  He was able to recover and posted a time of 4:53.60, more than five seconds better than the previous record, set in 1994.
"I was so focused on the finish line and looking at the clock to see where I was in breaking the record, I hit the railing," Wells said. "Wearing the metal spike, you usually slip on the metal rail.  I was lucky I didn't fall."
Wells, a former top-ranked 5K Road Race runner in Masters Track and Field rankings, turned to running on the track in the Florida Senior Games, and now holds the 800- and 1500- meter run records in the 50-54 and 55-59 age groups.
Golf Cart Divided
While Florida Senior Games athletes take their competition seriously, the camaraderie of the Games is able to overcome the most serious of rivalries.  Take for instance, the College Football golf cart divided with University of Florida alum, David Hodges, and Florida State University alum, Greg Jones.
The two paired together for both days of the 36-hole competition and good-naturedly matched their games shot for shot, both finishing with scores of 167.  Both shot an 83 on day one and an 84 on day two.  Jones won the tiebreaker between the two and won the bronze medal in the 60-64 age group.
Not only was Jones a student at Florida State in the mid-1970s, he was also a pitcher on the FSU Baseball team and coached in Tallahassee at the high school level for over 25 years.
2000 Bowling Pins Hit the Floor for Three Gold Medals
Ed Fenstermacher, of Summerfield, unknowingly tabbed a hat-trick of championships, winning three Bowling gold medals in three different age groups.  In earning the three gold medals, Fenstermacher knocked down 2,016 points in nine games.
Fenstermacher won the Men's Singles 75-79 age group gold medal with a three-game score of 638, 51 pins ahead of the silver medalist, Albert Bennett, of Ormond Beach. He also teamed with Gerald Teel, of The Villages, to win the 70-74 Men's Doubles gold medal and set an age group record, with Fenstermacher's score of 727.  Teaming with Barb Johnson, of The Villages, the duo won the 50-54 Mixed Doubles gold medal, with Fenstermacher contributing a score of 651.
"Since I turned 75 earlier this year, I've been bowling really well," Fenstermacher said. "It's probably been one of my better years. I got very comfortable this weekend, and my equipment matched up really well. I used the same ball all weekend and stayed on same line the whole time. I also tried not to pay attention to what everyone else was doing."
His three-game total in Men's Doubles was the highest of the weekend of all events and in eight of his nine games of the weekend, he topped a score of 200 or more.  His top single-game score, of 257, came in the first game of Men's Doubles competition.
About the Florida Senior Games presented by Humana
The Florida Senior Games presented by Humana are presented annually by the Florida Sports Foundation (FSF), the state's lead sports promotion and development organization, and a division of Enterprise Florida, Inc. The Foundation works in conjunction with a variety of local sports industry partners to present the different competitions. The Florida Senior Games, presented by Humana, an annual amateur sports tradition in Florida, is part of the state's $57.4 billion sports industry that accounts for 580,000 jobs statewide.