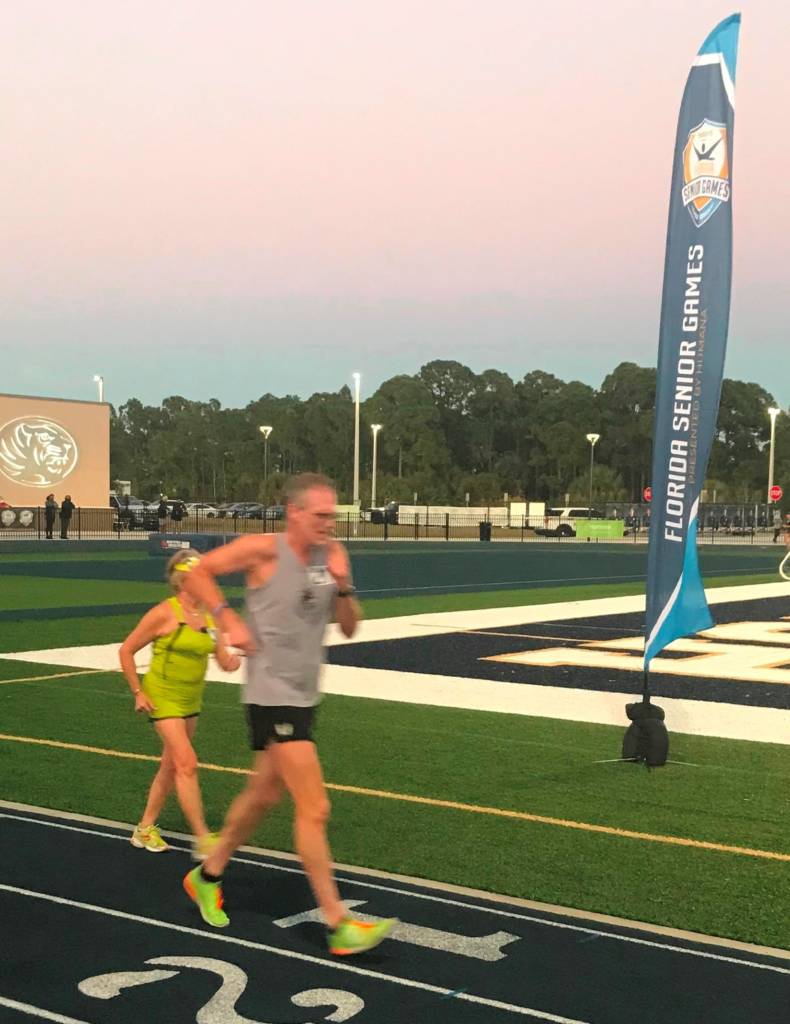 FOR IMMEDIATE RELEASE
December 11, 2020
CONTACT: Nick Gandy, media@playinflorida.com or (850) 322-3404
Complete results from the 2020 Florida Senior Games
Race Walk Champion Visits the 2020 Florida Senior Games
MELBOURNE – The flash seen circling the track at Holy Trinity Episcopal Academy Friday evening was Dave Swarts (pictured at left) setting a new top overall best time in the Florida Senior Games 5K Race Walk.
Swarts traveled to Florida from Jackson, Michigan, to establish the new mark and set a record in the 55-59 age group, circling the track 12 times to cross the finish line with a time of 24:26.37.  His time was 55 seconds faster than the previous best, set by Gene Opheim, of Tallahassee, in 1998.
On his way to Melbourne, Swarts made a stop in Tallahassee and won the AAU Race Walk National Championship, on Saturday, December 5.  He was the top overall finisher in the 5000 meter and 3000 meter races.  He won the 5K race with a time of 24:36.10.
The Florida Senior Games Race Walk Championships was only his third time competing since March 8.
"I was in a race in September, last weekend and today," Swarts said. "Each time out, you get better.  Without any races I've only done light training for the last six months. There really hasn't been an incentive to train hard."
Swarts was a runner in his college years at Eastern Michigan University, but claims to have just been an, "ok runner."  He began race walking 11 years ago at the age of 44.  Now 55 years old, he has won 55 USATF Masters Race Walk National Championships.
The top overall women's finisher was Sharon Haley, of Clearwater, who crossed the finish line with a time of 28:53.40, to set a new record in the women's 55-59 age group and establish a new record in the age group.
Haley has won Florida Senior Games Race Walk medals in each of the last six years.  She earned the Bob Fine Award for Race Walk Excellence in 2016 and 2018.
Achieving excellence on the Pickleball courts of the Sarah Vande Berg Tennis and Wellness Center in Zephyrhills was Deb Harrison, of The Villages, who won her 14th Mixed Doubles gold medal since 2004.  She teamed with Ted Meyer, also from The Villages, to win four matches in straight sets to claim the 70-74 age group gold medal.
Since 2004, Harrison, the 2018 Florida Senior Games Female Athlete of the Year, has won 37 pickleball gold medals in women's singles and doubles and mixed doubles events. She has also won 21 table tennis gold medals in the same three events since 2010.
In the largest of all brackets played during the five days of Pickleball, 24 teams in the 65-69 Mixed Doubles event, Coleen Wells and Jim Hoggart, of The Villages, won four matches for the gold medal.  Wells and Hoggart defeated Terri Small and George Graber, 11-2, 11-0, in the championship match.  It was the second gold medal of the Games for Wells and Hoggart, as Wells and Diane Bock won the Women's Doubles 65-69 gold medal, and Hoggart teamed with Ted Meyer to win the Men's Doubles 65-69 age group.
Over 500 pickleball matches were played in the five days of action of the 2020 Florida Senior Games.
In the Horseshoes competition, held at Clearwater's Ed Wright Park, Charles "Buddy" Short, of Ocala won his sixth gold medal dating back to the 2000 Florida Senior Games.  Short was undefeated in four matches to win the 80-84 age group gold medal.  He amassed 215 points and hit 55 ringers for a 45.8 ringer percentage, the highest of all men's competitors.
Claudette Braswell, of Lake Wales, won her fifth gold medal in three sports of the 2020 Florida Senior Games winning the Women's 80-84 age group.  In two matches, Braswell had 32 ringers for a 51.8 ringer percentage.  She won three Basketball Shooting gold medals and a Bag Toss gold medal on Saturday, December 5.
On Saturday, two days of Track and Field events begin at the Holy Trinity Episcopal Academy, in Melbourne, with 363 athletes competing. Running events begin Saturday morning at 9:15 a.m. and the field events begin at 8:00 a.m. on Sunday morning.
The 2020 Florida Senior Games are presented annually by the Florida Sports Foundation, the official sports promotion and development organization of the State of Florida. In conjunction with the Space Coast Florida, Gainesville Sports Commission, Florida's Sports Coast, Polk County Sports Marketing, St. Pete Clearwater Sports and Events and the Greater Orlando Sports Commission.
Saturday, December 12
Track & Field, (Running Events), Holy Trinity Episcopal Academy, Melbourne, 9:45 a.m.
1500 Meter Race Walk & Power Walk, Saturday, 12/12 – Holy Trinity Episcopal Academy, Melbourne, 9:15 a.m.